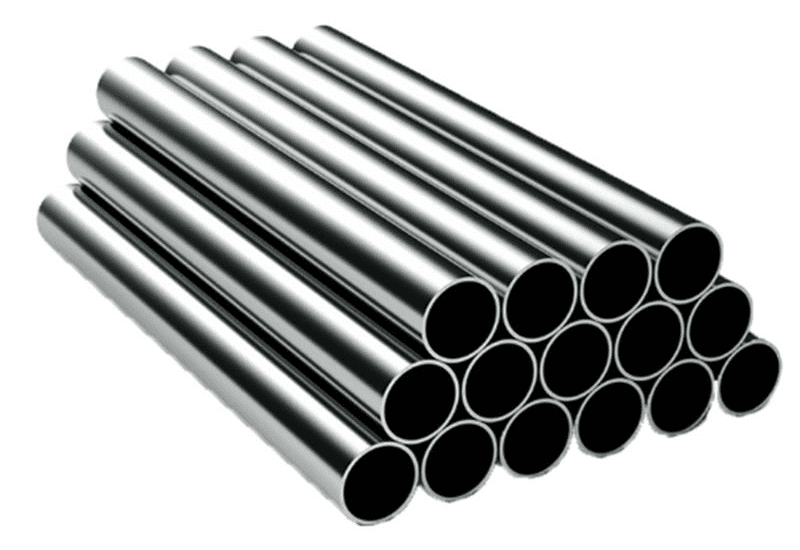 Stainless steel tubes are frequently used in applications requiring resistance to corrosion, high temperatures, or extreme pressures. Mechanical tubes, pipes, and structural tubes made of stainless steel 304 grade exhibit these characteristics.
Stainless steel is available in several grades, but one known as 304, is austenitic stainless steel that comprises at least 8% nickel and 18% chromium.
Stainless steel is a flexible material widely employed in all potential applications. Austenitic chromium alloy, or stainless steel grade 304, is a type of stainless steel that contains 8% nickel and 18% chromium. Alternatives to chloride, though, can damage 304 stainless steel. In corrosion zones only, chloride ions can cause pitting or cracking. When chromium oxide barriers are present, these damaged parts can spread to harm internal components.
A common metal fabrication material for modifying homes and automobiles, a stainless steel pipe is offered in various widths and thicknesses.
Seamless, welded, carbon steel and alloy steel seamless stainless steel pipes are just a few of the several configurations of stainless steel pipes offered. The most popular stainless steel product is the pipe, which is used frequently. Steel tube structures can use two materials: stainless steel and galvanized steel.
The 304 stainless steel tube has a few qualities that make them a great choice for making tubes out of:
It is flexible enough to endure various pressures while maintaining a high level of strength despite having great tensile strength and excellent ductility.
Because of its wide melting and boiling temperature range, which starts at around 2,300°F (1,200°C), it is the perfect material for industrial components and crock pots.
You can use it to remove any dirt inside the tube thanks to its nonmagnetic characteristics without worrying that sparks will form when different metals are close to one another.
The methods used to weld stainless steel 304 tubes include resistance welding, arc welding, and spot welding.
Since stainless steel 304 tubes have good dimensional stability, heat treating them after welding or shaping is unnecessary. The dimensions will only vary throughout the service life owing to temperature fluctuations without expanding or contracting.
Stainless steel 304 is corrosive resistant and may be utilized in settings where other metals may corrode or rust. It is also incredibly heat resistant and has strong mechanical characteristics, making it perfect for high-temperature use.
304 stainless steel can be used as a surface coating on various materials and has strong oxidation resistance in many forms. In other alloys, it can also be utilized as a base metal.
Uses for 304 SS Tube and Pipe:
Due to its resistance to acid corrosion when it comes in contact with food items, this steel is appropriate for appliances like sinks and dishwashers. Thus, it is employed in a variety of industries, including the preparation of food.
Stainless steel 304 tubes can be used to create structures that would corrode normal carbon steel, including food-processing equipment, refrigerators, chemical canisters, and pipes throughout brewing processes. It can be utilized as a manufactured material for pressure tanks that contain high-temperature petroleum gasses and vapors.