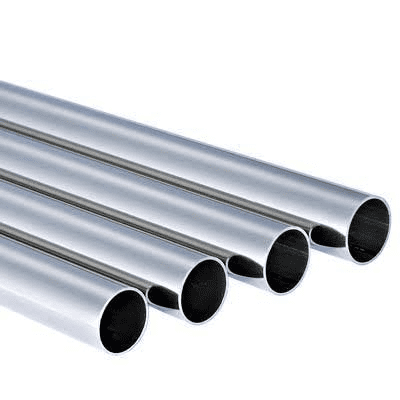 Grade 304 stainless steel belongs to the austenitic stainless steel family. It contains high nickel content that ranges between 8 and 10.5% by weight. The chromium content of 304 stainless steel lies between 18 to 20% by weight. Besides these elements, it also includes other alloying elements such as carbon, manganese, and silicon. The remaining chemical composition mainly comprises iron. Grade 304 is the standard "18/8" stainless and is defined as a Chromium-Nickel austenitic alloy.
Grade 304 (UNS S30400) is referred to in ASTM A240 as 304-grade steel. It is available in various forms such as steel, strip, quarto plate, tube, bar, fittings and flanges, plate, and pipe. The lower carbon content in grade 304 brings down the risk of carbide precipitation, which occurs in alloys containing a higher percentage of carbon. The chromium and nickel content gives 304 stainless steel tube excellent corrosion resistance, making them applicable across a wide range of industries.
Difference between 304, 304H, and 304L
According to Cr-Ni content, Grade 304 stainless steel has the following variants:
While these variants have 18% chromium and 8% Nickel, the significant difference lies in their carbon content.
304L: The "L" in 304L may imply the extra-low carbon content, amounting to 0.03% or less. It helps in effectively preventing intergranular corrosion. The ultra-low carbon content increases its stress corrosion resistance.
304H: The H in 304H indicates a high temperature. Its higher carbon content renders it usable at high temperatures. It should not have a carbon composition lesser than 0.04%. Since you can use it at high temperatures, it makes it better than pure austenite.
304: Its carbon content lies between 304L and 304H. The increase in carbon content decreases its corrosion resistance ability.
It is suitable for manufacturing deep-drawn parts and acid pipelines, structural parts, containers, different instrument bodies, and more.
Applications of 304 Stainless Steel
304 stainless steels have a wide range of domestic and commercial applications. It is generally used in:
Cutlery and flatware
Sinks and splashbacks
Saucepans
Sanitaryware and troughs
Architectural paneling
Brewery, dairy, food, and pharmaceutical production equipment
Tubing
Springs, nuts, bolts, and screws
Architectural paneling, railings & trim
Heat Exchangers
Chemical containers, including for transport
Dyeing industry
Woven or welded screens for mining, quarrying, and water filtration
Advantages of Grade 304 Stainless Steel
The Cr-Ni content in Grade 304 enables it to resist intergranular corrosion. Its high corrosion resistance and value make it a popular choice.
It has an impressive hot and cold forming process. It is helpful in processing board and producing tube, wires, tape, and other products.
Grade 304 stainless steel shows good weldability. You can readily weld the allows using any given arc welding processes (such as TIG, MIG, MMA, and SA). It can get welded into a precise structure with specific properties and characteristics.
It is highly durable and easy to sanitize, making it ideal for kitchen and food applications.
It shows better performance at lower temperatures. At -180 ℃condition, Grade 340 has good strength, elongation, and area reduction rate.
To Conclude:
These are a few essential things you should know about grade 304 stainless steel. It is austenitic stainless steel that has various applications and an extensive application volume.